Patch event listings are a great way to target a hyperlocal audience, boost attendance at your event and let neighbors know about cool stuff happening near them. Tap into our network of more than 20 million monthly users in over 1,200 communities by adding your event to the Patch calendar.
When you promote your event, you have the ability to have your event visible in more than just your home community, have your event visible in emails, and more.
For just $2 per community per day, your event will be:
Shared with nearby communities
Listed on Patch's local calendars
Featured at the top of local news pages*
Spotlighted on article pages*
Given preference in Patch's daily newsletters*
Featured in weekly calendar email roundups*
*during the dates you select for your event promotion
If you do not promote your event, it will be:
Listed on your home Patch's local calendar
To promote your event, click the "Promote and share" checkbox after you've written your event details and clicked "Next" (if you'd like to promote an event you already posted, scroll to the bottom of this page*):

Next, select the communities you'd like your event to run in. Your home Patch community is automatically selected, so you can choose to promote only in your home community, or select more. You can search for nearby communities, select entire metro areas, counties, and even entire states. You'll be able to see an estimate on how much traffic each community gets as well as a summary of all of your choices at the bottom of the page: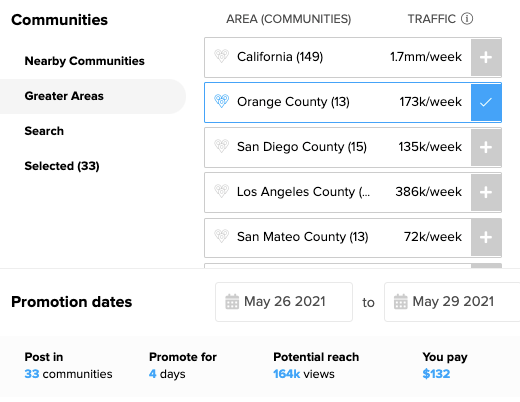 Before you post, be sure to review the promotion dates. Our system will automatically set the promotion dates to the 7 days leading up to your event, but if you'd like it promoted earlier, for a longer or shorter period of time, just click in the promotion dates boxes and configure it how you'd like.
Review the information at the bottom that indicates the number of communities, days, potential reach, and cost. After you've confirmed it's all correct, go ahead and click Next. You will be taken to a page where you enter in your payment information, once you've entered that in, go ahead and click Post. Your event will be live within seconds!
*To promote an event you've already posted, navigate to your post, click the menu button in the bottom right hand corner of the post (three horizontal dots) and then click "promote". Follow the instructions above, and you're all set!
If you have more questions or need assistance with this, please reach out to our friendly help team at support@patch.com.